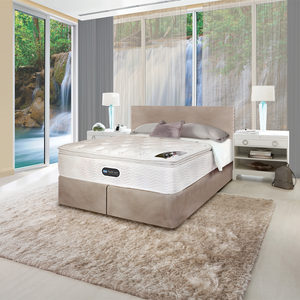 Pocketed Coil®
An invention of Simmons in 1925, the barrel-shaped pocketed coils conform naturally to your body, giving you optimal support and minimal motion transfer, contributing to an uninterrupted sleep.
Tested & Proven
Increased durability proven through Cornell University Indentation Test.

20 Percent Better Support
With the reduction in Coil Diameter, it delivers optimal coil utilisation and deliver more support for your back. 
Cold Foam
Cold Foam is a revolutionary foam, which is highly porous. With its high amount of additional ventilation channels, the cold foam dissipates heat, provides quick recovery and maintains a consistent cool feel.
Fully Imported From Japan
e-Ion Crystal™
Kneaded from 14 types of natural mineral stones that emit positive effects of Negative-Ion and Far-Infrared rays, the revolutionary e-Ion Crystal™ technology brings multiple benefits to your sleep.
Super Pillow Top Sleep Surface Finish
Featuring a loftier and plusher pillow pad, its luxury is reflected in its ensemble of high quality material like cashmere, wool, silk latex and memory foam. 
Non-Flip
Non-flip design enhances motion separation and eliminates the need to flip the mattress, thus bringing you greater convenience.
Fused Latex & Memory Foam
Hypo-allergic layer provides excellent support, relieves body pressure points and keeps you cool on warm night
Product dimension(approx)
Queen
Length : 190cm
Width   : 152cm
Height  :Approx. 32cm (12.6")
King
Length : 190cm
Width   : 183cm
Height  :Approx. 32cm (12.6")
Super King
Length : 198cm
Width   : 183cm
Height  : Approx. 32cm (12.6")
Others
Free Pillow & Mattress Protector
Free Delivery
Free Installation
10 years warranty on manufacturer defects
Order Process
Installation & Delivery
Why Us?