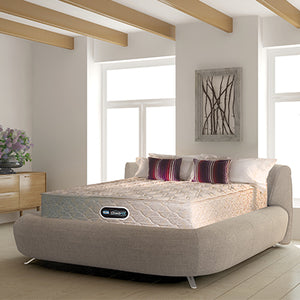 Two-Sided
e-Ion mattress
Pillow Top

Pocketed Coil®
An invention of Simmons in 1925, the barrel-shaped pocketed coils conform naturally
to your body, giving you optimal support and minimal motion transfer, contributing to an
uninterrupted sleep

20 Percent Better Support
Coil-on-Coil technology provides additional support, durability and resilience.

e-Ion Crystal™
The revolutionary e-Ion CrystalTM technology brings multiple benefits to your sleep,
you rest better and wake up fully refreshed and recharged, in mind, body and health. Kneaded from 14 types of natural mineral stones that emit positive effects of Negative-Ion and
Far-Infrared rays, this special fibre is applied into each mattress to best deliver benefit to
the sleeper.

Tested & Proven
Every element of Simmons mattresses is put to extensive tests. Quality assurance on its durability is tested through Cornell University Indentation Test, while the 240-pound steel drum rollator test proves the stability and structural integrity of Simmons mattresses over time.
Made in Japan
Fully Imported from Japan

Pillow-Top Sleep Surface Finish
Pillow-top sleep surface finish has a built-on pillow pad over the top panel to provide added comfort. This type of sleep surface is a superb combination that offers support, comfort and luxury.
Product dimension(approx)
Queen
Length : 190cm
Width   : 152cm
Height  :

Approx. 30cm (12")
King
Length : 190cm
Width   : 183cm
Height  :

Approx. 30cm (12")
Others
Free Pillow & Mattress Protector
Free Delivery
Free Installation
10 years warranty on manufacturer defects
Order Process
Installation & Delivery
Why Us?