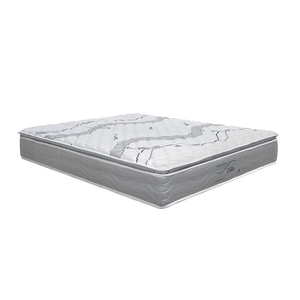 Comfort Level :

 Medium 

Firm
King Koil features mattresses that have five specialized contour zones are created through heavier guard coils and increased coil concentration in specific body areas. Our 5 zone individually pocketed spring comprise a greater concentration of springs at the vital center third of the mattress, i.e. Spine area, providing extra support where your body is the heaviest. It conforms to your natural curves, supports concave areas such as your lower back, as well as your spine and body in a natural position while you sleep.We also feature individually encased coils reduce motion transfer resulting in minimal disturbance to your sleeping partner. King Koil aims to meet specific contour support requirements and always provides superior quality sleep.
King Koil Thermic Thermal Intelligent Elite
Latest Technology – THERMIC™ contains millions of embedded cells in the fabric, which absorbs energy to cool off, & releases this energy as heat to warm you without altering your temperature.
• Individually Pocketed Spring System with Centre Third Support & Encased Foam Box for Superior Edge Support
• 100% Natural Latex is simply the best for body conforming comfort & automatically correct support
• Exclusive Luxury Plush Latex Pillow Top Construction
• Upholstered with Ultra Super Soft High Density Foam
• One Side Construction – No Need to Turn
• 10.5″ Mattress Thickness
• Medium Soft Comfort
Relaxed Sleep:
 THERMIC™ has extreme insulation properties due to the hollow spaces in the mattress fabric. The air in these spaces takes on a sleeper's body heat and ensures the ideal sleeping temperature at all times, regardless of the ambient temperature.
Comfort
: The ideal temperature is definitely an important requirement for untroubled, peaceful sleep. What's more, THERMIC™ is also very body-friendly due to its ultra-soft feel.
Health: An ideal mattress for people with allergies. THERMIC™ composition discourages fungus development, so it does not constitute a feeding ground for dust house mites and other allergens.
Seductive look and feel: The soft and luxurious feel of the mattress ensures maximum sleep comfort
Product dimension(approx)
Single
Length : 190cm
Width : 91cm
Height : 11″
Super Single
Length : 190cm
Width : 107cm
Height : 11″
Queen
Length : 190cm
Width : 152cm
Height : 11″
King
Length : 190cm
Width : 183cm
Height : 11″
Others
Free Delivery
Free Installation
10 years warranty on manufacturer defects
Order Process
Installation & Delivery
Why Us?