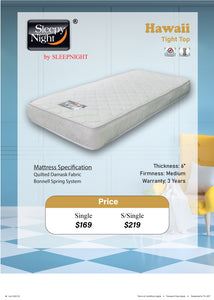 Hawaii mattress is definitely one of the best valued mattresses offered by Sleepy Night. The nicely Quilted Damask Fabric not only gives you the classy look, it offers comfort to the skin. The Bonnel Spring System in the mattress will also provides the necessary spinal care and support for the user. For the $$$ that you are paying for this combination, it is no doubt the best valued mattress around.
Firmness (6/10)
Bonnell Spring System Mattress
Quilted Damask Fabric
Anti-Bacteria
Anti-Dust Mite
Anti-Fungi
Product dimension(approx)
Single
Length : 190cm
Width : 91cm
Height : 6″
Super Single
Length : 190cm
Width : 107cm
Height : 6″
Others
Free Delivery
Free Installation
1 years warranty on manufacturer defects
Order Process
Installation & Delivery
Why Us?